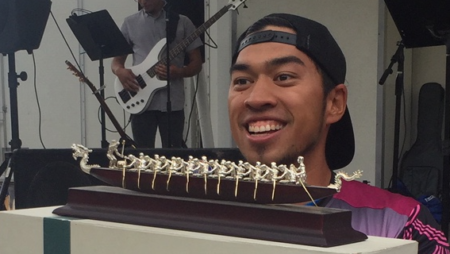 The AZ Gila Dragons, AZ Monsoon Men's, AZ SunGi Women's, and AZ CrAZy Cuddlefish took their talents to Irwindale, California for one last shot at glory for the season finale of the 2018 racing season.   This final one-day festival in the home waters of Team DPW was originally one of the smaller festival that was hosted by Dr. Chen from Long Beach, but due to other commitments, it was handed over to Nathan Salazar and DPW to take over and it was relocated to DPW's home turf of Santa Fe Dam Recreational Area.  Last year was their inaugural Santa Fe Festival and they pulled it off in spectacular fashion!
This year, the Santa Fe Festival was bigger than ever, as they hosted 80 boats in a 250m format with 10 paddlers in a boat.  And it proved to the largest single-day medal haul for Arizona teams across this entire year.  The AZ Monsoon Men's team put a cherry on top of a perfect day of racing by winning a special 1st place Perpetual Dragon Trophy for having the fastest 1st heat race time across all teams in the festival!   It capped off a sweep of Gold medals for Arizona teams, in the Open Division, Women's A Division, and Mixed A Division.
The final tally of medals included:
AZ Monsoon Mens – Gold / 1st place – Open Division
The Monsoon Mens team is comprised of paddlers from the AZ Gila Dragons, Phoenix Fire Dragons, and TAZ Outrigger Canoe Club.   Monsoon took home the "Fastest-Time-in-1st-Heat" Trophy at the Festival with a time of 1:09.454.   They came back in the Open Finals with a time of 1:10.744 to beat arch-rivals DPW and LARD to take home the Gold medal in the Open Division.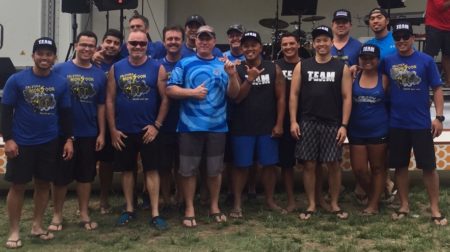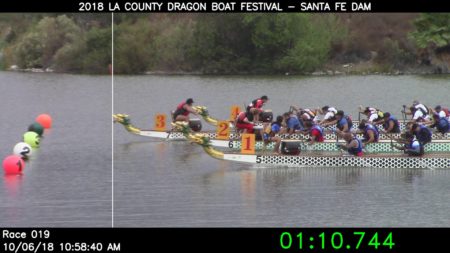 AZ SunGi Women's Black – Gold / 1st place – Women's A Division
AZ SunGi head coach Marisa Singpradith and her SunGi Black Crew continues their dominance in the Women's Division by turning in another impressive run at Santa Fe Dam. They completely dismantled the competition while adding another Gold Medal to their war chest. In the Women's A Division Finals, they not only beat arch-rival DPW, but did so in dominating fashion by winning by over one and a half boat lengths (~4 seconds).
AZ SunGi Women's Pink – Silver / 2nd place – Women's B Division
The SunGi Pink crew wound up in the Women's B Division Finals where they earned a hard-fought Silver medal losing out to the LA Harbor Lady Pirates by only a fraction of a boat length. It was still a great win for the ladies in pink as SunGi overall took home a Gold and a Silver. Great job SunGi ladies!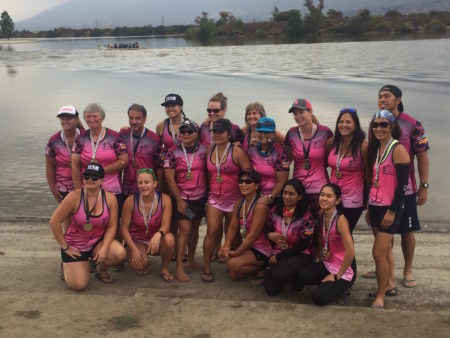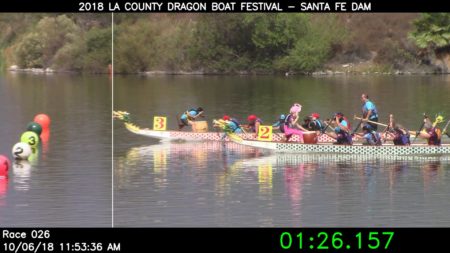 AZ Gila Dragon's Black – 

Silver / 2nd place – Competitive Finals B Division

AZ Gila Dragon's Red – 

Bronze / 3rd place – Community Division
Under the leadership of first year Gila head coach Peter Funnell, the AZ Gila Dragons have been on a tear this year! After taking home two Golds and a Silver in Long Beach, they followed up by taking home a Silver medal in the 250m Open Championship Mixed B Division against a strong field in New York's HK Dragon Boat Festival in Flushing, NY. They finished strong in Santa Fe as they wrapped up the season with the Gila Black crew earning a Silver medal in Competitive (Mixed) B Division.  They missed the Gold by only 0.3 seconds, and barely a dragon's head behind the eventual first place winners, Team Ito from DPW, as can be seen in the photo-finish below.  The Gila Red crew earned a Bronze medal in the Community Division.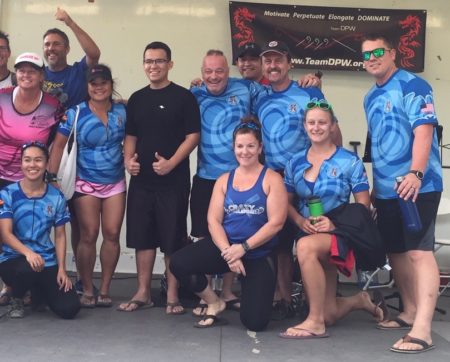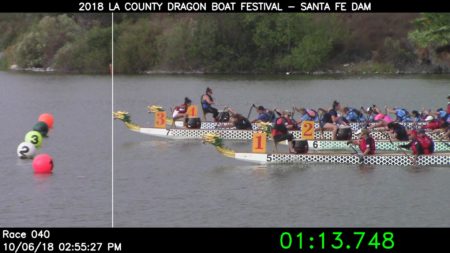 CrAZy Cuddlefish Blue – Silver / 2nd place – Youth B Division
CrAZy Cuddlefish White – 4th place – Youth B Division
The CrAZy Cuddlefish youth crew continues to make waves by taking home a Silver medal in the Youth B Division.   This was an impressive achievement as our young paddlers were going up against teams with high school aged paddlers in the competition.  Way to go Cuddlefish!
Team Eclipse – Gold / 1st place – Competitive Finals A Division
Team Eclipse is comprised of AZDBA paddlers and its crew is headlined by ICF Team USA paddler Adrian Sudjono, current MonGi/Monsoon head coach, who also recently brought home 2 Bronze medals from the ICF Worlds at Lake Lanier, GA, where he landed in the Sr Mixed 10-man Boat (Top 5 male paddler).  In addition, the crew also included Stephanie Yee and Hiro Fukumoto, both former IDBF Team USA U-24 paddlers.
Congrats to all the teams who made it out for the one day event in Irwindale.  This was truly a spectacular way for AZDBA teams to finish up the 2018 festival season – with guns ablazing … and going out swinging!
As the weather turns colder, and the teams head into the off-season, AZDBA will not be resting on their laurels.  You can be sure the teams will continue to train harder than ever before to insure they hit the ground running in 2019!