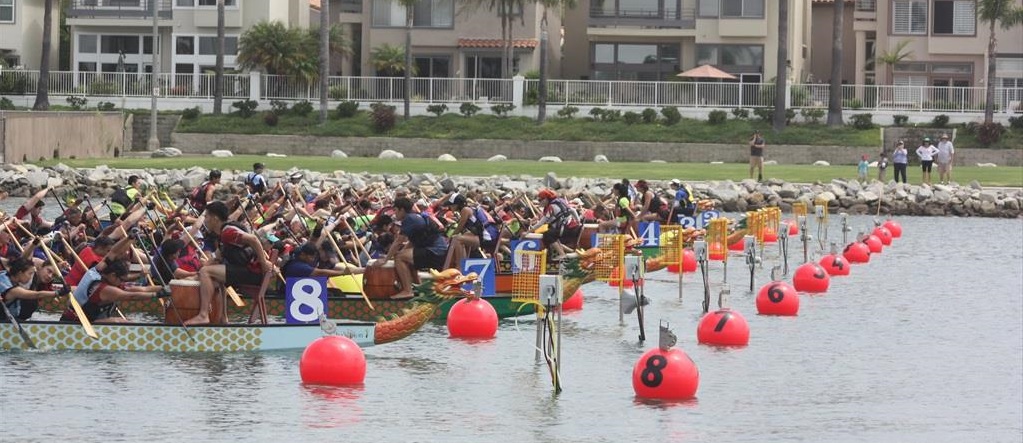 As is the custom each year, most AZDBA teams circle the last weekend in July on their calendars for the Long Beach Dragon Boat Festival, which is one of the largest races in California.   And 2018 was no different, as 5 AZDBA teams made their way to Long Beach California for the annual rite to compete against over 200 teams in international competition across 15 different divisions of competitive racing!
The AZ Dragon Riders,  the Crazy Cuddlefish, the AZ Gila Dragons, the Phoenix Fire Dragons, and SunGi descended on Marine Stadium in Alamitos Bay to take it to the international competition!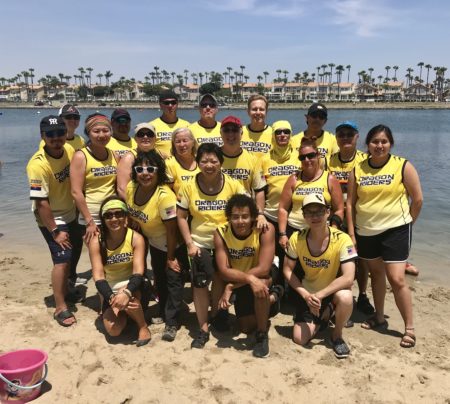 The Arizona Dragon Riders have competed in 4 races this year to date – Tempe, Long Beach Spring, Vancouver and Big Long Beach this July.  They have a lot of newer paddlers this year that they are integrating into the team, so its been a huge growing experience.  Each race has been an awesome experience to each paddler, and their motto has been and always will be:  we race one for all and all for one team!
Even though they have won only one medal out of the 4 races they have competed in (this year overall), they are not discouraged us nor dissuaded – they have strong team spirit , and they will continue to grow and get stronger together.  The Riders are planning to head down to San Diego this coming September and can't wait to compete again!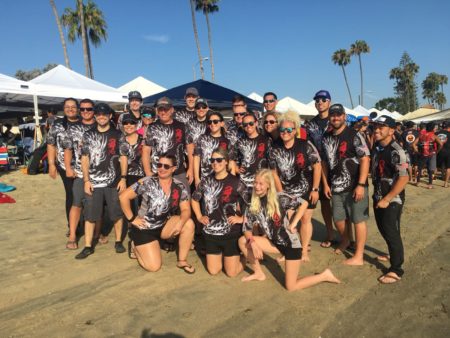 The Phoenix Fire Dragons started off Long Beach weekend with a bang by taking 1st place in their preliminary seeding race in the Division III/IV.  This put them at the top of the heap in Div III, but they lost a heartbreaking race by 0.2 seconds to CSULB Dragon Boat in Heat 2.  Regardless, this put them in the Div III (A) finals alongside the AZ Gila Dragons to match up with the best teams in Div III, where they earned a medal with a very respectable 4th place finish.
PFD also entered a crew in the Corporate Division, and took 3rd place in the first two seeding races.  That earned them a spot in the Corporate B Finals where they again finished in 4th place, but (being in B)  did not earn a medal.
AZDBA's youth team, the CrAZy Cuttlefish is once again serving notice that they are a force to be reckoned with, and will be for years to come.   The older group took 3rd place in the Junior High division, and the younger group took 1st place in the Elementary division.   What made the 3rd place finish in the Junior High division especially satisfying was that only a handful of the paddlers even qualified to be in that age bracket, and it was their first 500m race in a festival ever.  Michele Laye, the assistant coach for the Cuttlefish said, "The awesome thing about that race was they were behind by several boat lengths and they caught up and passed teams to take that third place!"
Ashley Lagazo, Michele Laye, and Michael Lee are doing a phenomenal job of establishing a strong and formidable youth paddling crew for Arizona, and at the same time, preparing the next generation of AZDBA paddlers to get to the next level.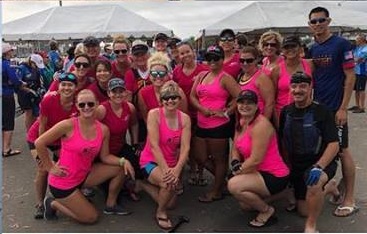 The Arizona SunGi women's team brought one crew to Long Beach this year and did very well going up against a strong DPW women's boat in the preliminary race.  They placed 2nd to DPW in that heat.   That earned them a place in the Women's A Final race that stacked them against DPW again, along with Cal Dragon Boat, LARD, and Aero Poe 1.   The SunGi women came in a very respectable 4th place in the A Finals earning a medal for their efforts.   They always field a strong team at Long Beach, and they will be back again next year to challenge for the Gold!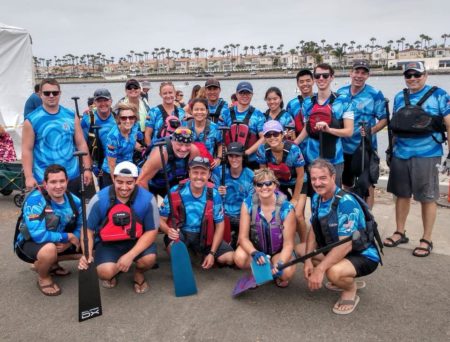 The Arizona Gila Dragons came to Long Beach with high hopes and they did not disappoint. They blew away the field in their preliminary race in Division III/IV, beating the 2nd place team by a boat length (more than 7 seconds). While the 2nd race was a little closer, they still took the top spot beating the 2nd place team, Dragon Eyes crew by over 4 seconds. This earned them a spot in the Div III (A) Finals where they were stacked against PFD, and the perennially strong LA Thunder Dragons team led by long time AZDBA friend, Barry George. The Gilas saved their best for last, and finished strong with their fastest 500m race time of the day (2:12.961) , earning a 1st place Gold Medal showing by beating 2nd place CSULB Dragon Boat by 2 seconds. Well done and congratulations to the AZ Gila Dragons!
As great of an achievement that was, the AZ Gila Dragons were not done yet, not by a long shot. In the 200m sprint races, they had the 2nd fastest preliminary race time in the strong and crowded field of 61 other crews in the seeding heat of the 200m B(Div III/IV) category, with a time of 00:51.690. This put a target on their back in the 200m B Finals where all the 1st place finishers in their respective heats were pitted against each other. The AZ Gila Dragons made quick work of their competitors by taking 1st place and earned their 2nd Gold Medal for the weekend.
If that wasn't enough, for their encore, the AZ Gila Dragons entered their crew in the Masters Division where they earned a spot in their preliminary race to land in the Masters B Division Finals. They went on to take 3rd place for a Bronze Medal, their 3rd medal in Long Beach that weekend.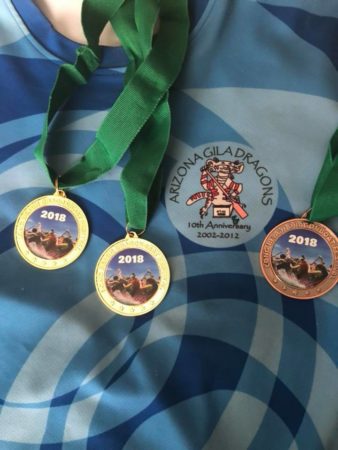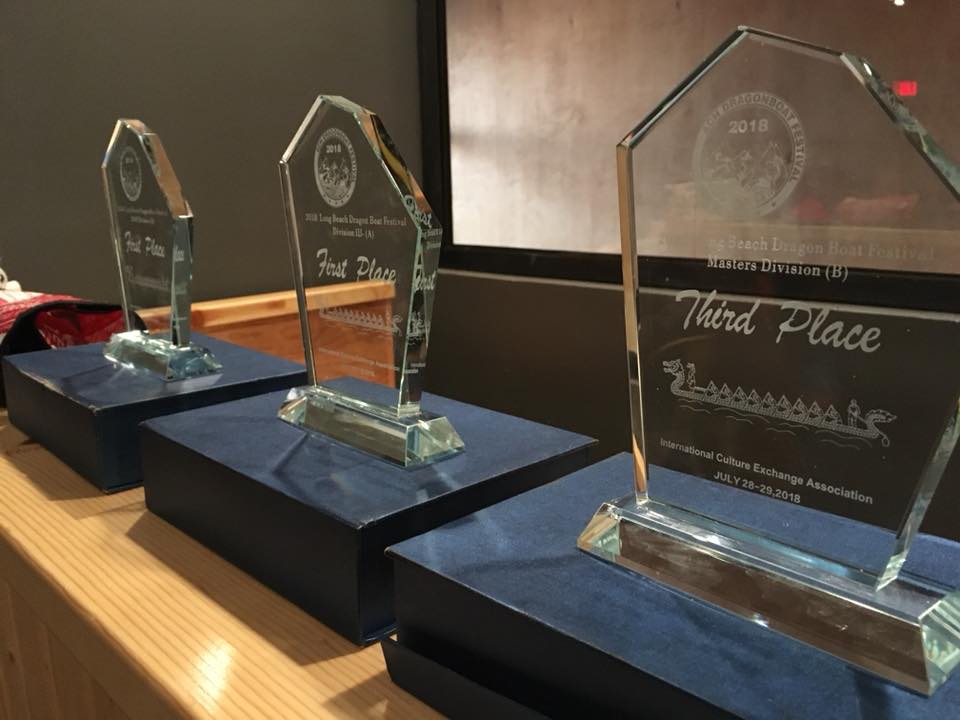 All totaled, it was a very impressive showing for the AZ Gila Dragons at Long Beach that weekend with 2 Golds and 1 Bronze medal! Well done, and congratulations to Peter Funnell (head coach of the AZ Gila Dragons) and the rest of the Gila crew!
Congratulations to all the AZDBA crews that went down to Long Beach to compete against the best that the West Coast had to offer. All the crews did Arizona proud by representing the state in formidable fashion! You can be sure that AZDBA teams will continue to challenge each and every year at Long Beach, making a serious run for that Gold!