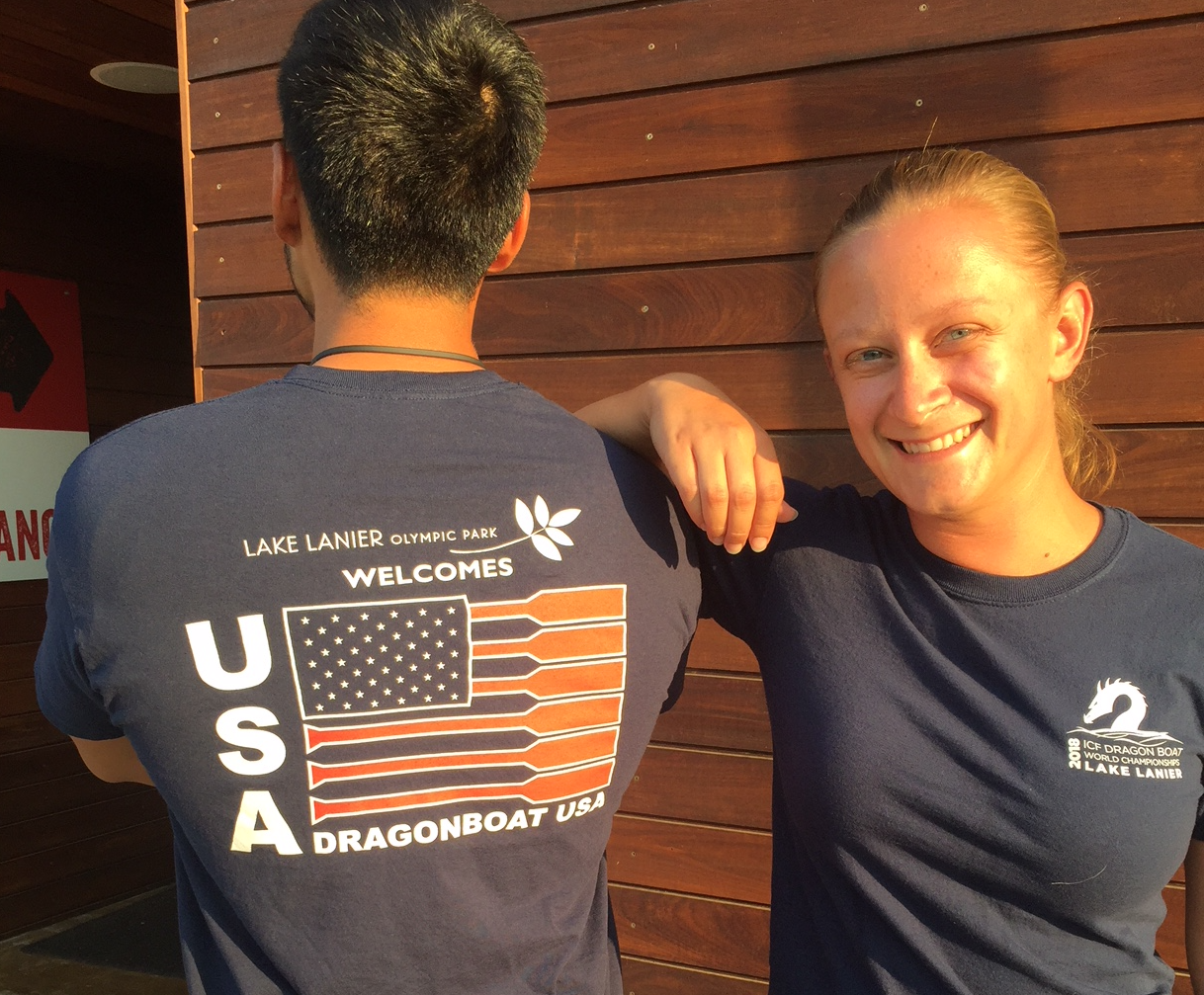 AZDBA and its entire paddling community would like to extend a warm congratulations to Adrian Sudjono and Laura Baack for making the ICF/ACA's Dragon Boat USA National Team!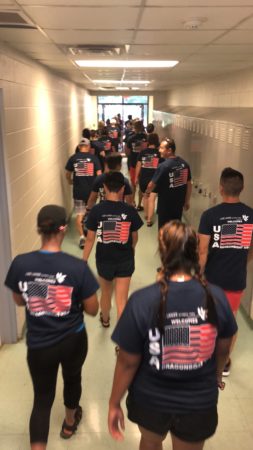 Adrian Sudjono has been paddling for 9 years and coaching for 7 years.  He is currently the head coach of AZDBA's MonGi premier team and the Monsoon Men's team.  Laura Baack is a relatively new paddler with a little over a year paddling, but she is already an assistant coach for the SunGi Women's team.   Both had to undergo a rigorous and demanding training regimen leading up to the Team USA Selection Trials.  Adrian said, "I've been training hard almost 7 days a week with virtually no rest days.  I've been working on strength, cardio conditioning, and also trying to stay limber (maximizing flexibility).  And as a coach (with little time to paddle), i've had to be intentional with my paddling by spending a lot of time on the OC1 on my off (coaching) days.  My days often start at 4:30am."
They started their journey by attending the 1st round regional trials held in Long Beach, CA in April (Other regionals were held in TX, FL, GA, PA, and OR).  At Long Beach, they competed against 34 other athletes by:
o Being measured for raw strength/output using a Merlin Data Acquisition Paddle (90 sec at 80 spm)
o Video analysis for proper technique and to insure uniformity with Team USA standards
o Land-based physical fitness baseline testing – e.g. pushups till failure, timed plank, pullups till failure, and a timed one-mile run.
Both did well enough to advance to the final round of the trials held in Gainesville, GA in late July.  At that 3-day invitation-only camp, the group was separated out by gender, then subjected to 3 days of intensive on-water paddling drills under the watchful eye of Mike Blundetto, U.S. National Team Head Coach who has 30+ years of Dragon Boat experience at the worlds level, and was a World Champion at the 2014 Nations Cup.
Day #1 was an 8 hour affair with over half of it in the water.  The group was video taped for their technique, and coached to adapt to the ICF Team USA style of paddling.  ICF adapts a true "A-frame" that is characterized by straight arms, and stacked shoulders.  There were 7 boats being utilized for the trials, with 140 paddlers on the water at the same time.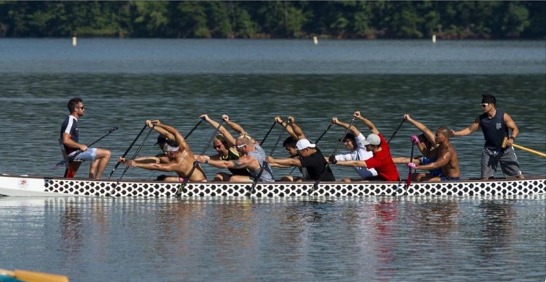 Adrian noted "There were a lot of drills, drills, and more drills.  I think the entire group struggled a little physically that first day, not realizing how physically intensive it was going to be."   Also, the seriousness of the competition was evident as the athletes were not shy in aggressively jockeying with physical contact during practice time in the water as a not-so-subtle hint for paddlers in front of them to reach/rotate more.  "That was happening in all the boats.
Day #2 did not see a let up in the activity.  There were a couple of 3 hour sessions, with assistant coaches stationed in every corner of the lake observing the group.  "We did a lot of starts – 3 in a row, with a minute rest in between rounds," he said.
The coaches appeared to key in on endurance and conditioning as one of the key indicators.  "It seemed like the real evaluations only started after 3 hours into our paddling session, when paddlers were tired and some were even running out of water," he observed.
"Everyone's energy level was through the roof at the trials.  Everyone is confident about their abilities, and they expect to make the team.  Also, the coaches don't filter what they say.  They don't hold back.  They aren't afraid to call out individuals, and if you don't listen and adapt, they just pass you over.  They don't have time for being subtle.  The biggest thing i learned is that you have to be willing to listen to what they say, and then adapt to what they ask of you."
While the group was not subjected to any extremely long pieces to test cardio endurance, the biggest challenge Adrian said was having to sustain a 118 spm rate for about 300m (about a minute).   The physical demands on each paddler proved to be too much for many, as Adrian noted that some paddlers did not show up for the final day.
Day #3 did not start like the other two with Mike giving a introductory pep talk.  They jumped into the boats right away.   Adrian noted, "I could tell people were sore on that last day.  It took most paddlers a significant amount of time to sit down in the boat."
"I gave it everything i had over those 3 days.  When i looked back on that weekend, i wouldn't have changed a thing.  I left it all out on the water, and i had no regrets."
Both Adrian and Laura did not have to wait long for Mike and his coaching staff to make their decision.   Both of them were at MonGi practice the next Monday at 6:30pm when they both received the exciting news that that they had made the final cut of 113 paddlers for Team USA!    "It was really difficult to contain my excitement at practice that night when i found out the news!"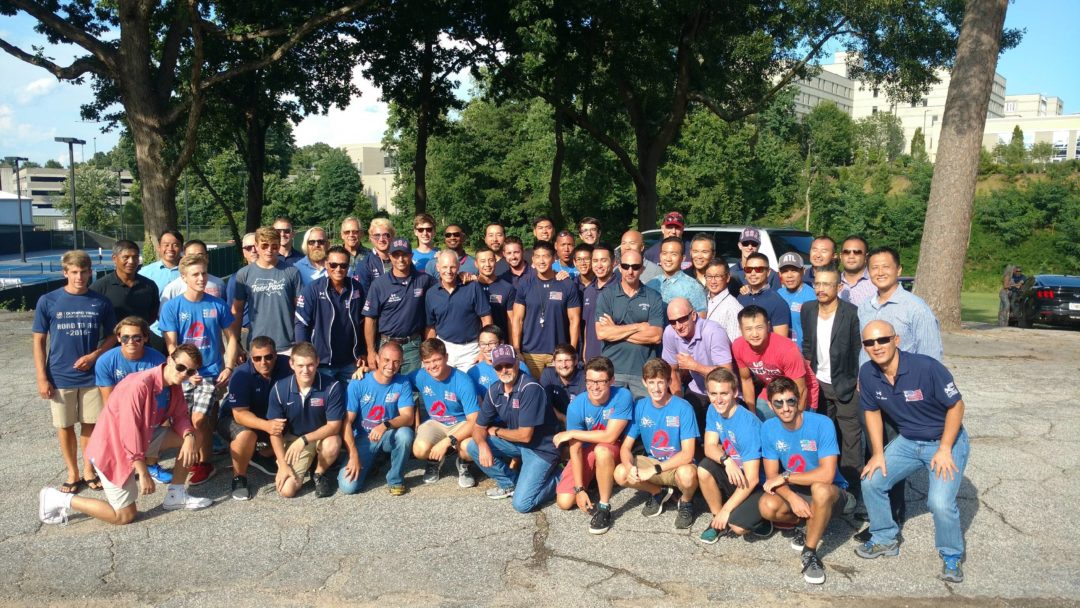 So whats next for the pair?  Its on to Lake Lanier in Gainesville, GA for the ICF Worlds 2018 being held from Sept 12-16.  Incidentally, the site is the same location where the 3-day final camp for Team USA was held, so it will be returning to familiar territory for Team USA.  "We'll be there for 10 days.  The extra upfront time before the Worlds will be for final preparations and tweaking for Team USA," Adrian said.
ICF Dragon Boat USA Crews will be competing the following divisions:
Junior Men (ages 15-18)
Junior Mixed (ages 15-18)
Junior Women (ages 15-18)
Senior Men (all ages – best of the best)
Senior Mixed (all ages – best of the best)
Senior Women (all ages – best of the best)
Master Men (40 + and 50+)
Master Mixed (40 + and 50+)
Master Women (40 + and 50+)
All divisions will race 200m, 500m and 2000m races in 20 and 10 person boats.
Adrian reflected, "I made it into the top 20 paddlers for the Senior Men's Crew.   The next goal will be to make it into the Senior Mixed crew (and Senior Mens 10-man boat), which will only select the top 10 paddlers of both genders.   That's when i'll know i've made it to the top."
AZDBA would like to once congratulate both Adrian and Laura on their monumental achievement!  Lets wish them the best as they proudly represent both Arizona and the USA in their quest for Gold at the 2018 ICF World Championships!