McFate's Brewery, 1312 N Scottsdale Rd, Scottsdale, AZ 85257 6:30pm – 8:30pm
Desiree Simmons, Michelle Laye, Jordy Mosely, Ben Choi, Laura Rasmussen, Eric Tang, Julie Hensley, Ash Lagazo, Aunty Dianne, Sharon Sebastian, Ronnie Sebastian, Rick Elias
Gary Cumberland, Russ Downs, Rick Gay
General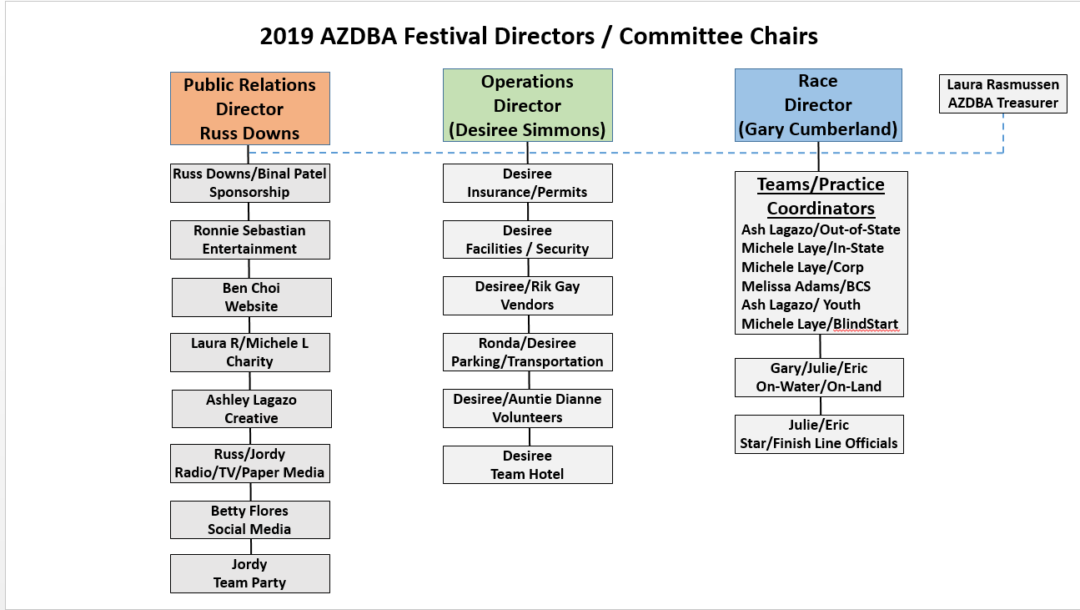 Public Relations Director (Russ)
Charity
BCS paddler – Karen Root Radke

Husband is good with whatever we are planning for Karen's memory
Can we name the BCS race after her? Yes
Can we also add something to the program in her memory? Yes
Sponsorship (Russ)
Wells Fargo sponsorship packet

Steve no longer in charge – a new person (female) is in charge of the team
Russ needs to fill out grant documentation by Jan 31, 2019 for their team/boat registrations + sponsorship
Michele and Ash were (inadvertently) CC'ed on their team communication – WF is working to get their teams and volunteers together for this year's festival

Toyota

They do the same thing as Wells Fargo (team registration + sponsorship to AZDBA)
Entertainment (Ronnie Sebastian)
Haven't started yet (normally start in January), but 2 groups have already approached her about performing in this year's festival
Des asked if we can get the Japanese Drum Group back.. for the same price? Yes, we can
Des asked if we can get the Monk? Yes
Creative (Ash)
Medals

Hasty Awards (hastyawards.com) has completed the Artwork Concept- Ash passed it around the festival committee to review – lots of oooohs and aaaaahhhhs
Started the artwork in October
Need to submit art by Jan 9, 2019
$3.59 per (die-cast) medal (our cost)
Media and Publicity (Jordy/Russ)
Jordy completed the tweaks to the Festival flyers –

ready for printing and posting
will give a electronic PDF version to Ben for website download

Russ wants to do publicity using Bill Boards ($2500)

That might get us 1 day of advertising 2 weeks before the festival
overwhelming response was that this is too expensive and not effective
Des told Russ to take it out of $11k budget if really want to do that
Eric suggested we hire a high-school kid to do sign-flipping on a street corner for $5/hour- might be more cost effective and get same amount of interest.
Website (Ben) / Social Media (Betty)
Des said the Corporate information needs to be consolidated – Ben to review and make the modifications
Ben to add the Youth information as a new Division

< 18 years old
$300 / $400 (verify with Julie/Des)

Julie to send Ben updated requirements for BCS division
Team Party (Jordy)
Dave & Busters
Set a max of $30/head, but their final estimate came out to $42/head
Their $10 play card ended up at $20.69 when they tacked on extras: $3 activation + $5 unlimited play + $2.69 unlimited soda
They offered $12.69 for $10 play card + unlimited soda
Operations Director (Desiree)
Vendors (Desiree/Rik)
They are trickling in a little at a time; taking them in as we go along
Insurance/Permits (Desiree)
Insurance

Laura R has sent $450 to Diane at the Insurance Co. and she knows the check is in the mail.
Once the check has been received and the Insurance Release has been approved, the Volunteer Waiver can be posted
Facilities/Security (Desiree)
Porta-Potties

We are no longer using A1
We are going through United Rentals this year

Marshalling Area

Rick suggested we move the Marshalling tents down a bit, so that some Pop-Up tents can be set up for Steers/Drummer volunteers to hang out there
Des gave feedback that we did that last year, and Puppy said no one used them
Parking/Transportation (Ronda)
Des wanted to know what the ASU Lot 59 situation was, but Ronda was not present
Des said as far as she knew Kwok was still committed to providing RFID for parking scanner
Volunteers (Desiree/Aunty Dianne)
Des will update Jot Registration Form on website once Insurance Release has been approved/received
Aunty Diane meeting with Steve (Excel) about t-shirts (they will be Magenta/Pink)
City of Tempe (Ryan)
Ryan was not present – no updates
Team Hotel Accommodations (Desiree)
Met with Mariott- opening up new rooms in Scottsdale
Giving Des more rooms at A-Loft- once confirmed, we can update the website
Ref (official) rooms will be given
Race Director (Gary-absent / Julie representing)
Teams/Registration (Julie)
Juniors

3 teams are committed to festival- Gary ready to go with Juniors Division with these 3 teams
Ben to update website with Juniors info – under 18 / $300EB/$400/RB- Julie to confirm rates
Ash asked if they are willing to race both days or just one day?

if 1 day, then they will only have 2 races (1 seeding, then finals)
if 2 days, then can have up to 4 races

BCS

Julie will send Ben updates for the website as to requirements for BCS teams
Corporate (Michele)
Captains and Coaches Meeting (Michele)

Michele will be setting this training meeting up in January, most likely at the Baymont

Drummers (Julie);

highly recommend (STRONGLY SUGGEST) that each company train a drummer for their boat; we can always draft someone if they can't find someone, but we should get them to at least try to find someone
Des likes the idea but would like to make that applicable only to "tenured" crews (crews that have been in at least 4-5 festivals)
Michele is trying to get kids to do it; Ash said she doesn't want kids to be blamed for situations if things should go wrong

Paddles from Kwok (Julie/Des)

Kwok changed his mind and will be renting paddles this year after all
Will have 100 paddles / Each Corp team allowed to rent up to 6 paddles
Additional Rules

Teams will have a time period (e.g. Feb 1 – 28) to RSVP their 6 paddles; After that, any Corp team can claim/rent the extras (gives opportunity for everyone to have equal access to paddles)
Des will give Arin/Burnwater same opportunity to do same (rent paddles to Corp), but doesn't think he will take offer

Des wants everyone to have same opportunity, while not forcing them to do so.. but they can rent if they want
Michele said she would contact the teams to let them know these paddles are available for rent
Des also wants rules on paddles – e.g. what happens if team breaks them? Kwok says if they break they break… so what?
Des said Gary offered to help Kwok with wording together for Paddle Rental rules
Des also said Kwok offerred to put together Jersey orders in for Corporate team.
Steerspersons
Julie/Gary discussed and they are in favor of having steers assigned to the boats (not teams)

6 would be in the water/racing at any given time
6 would be marshalling or at docks (preparing to head out) at any given time
if a team had their own steer, then we could accomodate that, but in general: steers assigned to boats

Next step: we need to identify who our "pool" of steerspersons will be
Rick wanted to send a letter to entire AZDBA community. The gist of the letter is:

We need help – call for steers to step-up for corp practices and races
Ask teams to provide their steers more time on water/practice
Rick wants to offer another class in Jan'19
Concerns:

Who is going to certify them for race day? Just because they are certified doesn't mean they are ready to steer for festival
Don't want newbie steersperson for Corporate: if they have a bad experience, they won't ever come back
Eric gave some feedback that one corporate boat actually filed a complaint about a steersperson who messed up one of their races (Eric's response: shit happens)

Des suggested putting Ronda in charge of Steers pool so that they can decide who's ready and who's not- let her make the call
On the Water
On the Land
Julie sent out a letter to Jack and Dr. Joel, waiting for a response
Eric wanted to know if Puppy is under contract

Des confirmed that he is coming
Ash said he asked about accomodations in AZ
Start/Finish Line
Round Table
Eric
Do we want to adopt IDBF rules for crews – e.g. min 8 women / 8 men? No, would be too much extra bureacracy
Ash
Do we want to put additional restrictions for Youth Crews like we do with Mixed and Collegiate as to min/max males/females?
Next Meeting
Thursday, January 17, 2019 from 6:00 pm – 8:00 pm at TBD location
Meeting adjourned at 7:39 PM.