November 29, 2018, 6:30PM
Boulders on Broadway, 530 W Broadway Road, Tempe AZ 85282  6:30pm – 8:30pm
Desiree Simmons, Michelle Laye, Rick Gay, Jordy Mosely, Ben Choi, Russ Downs, Laura Rasmussen, Eric Tang, Julie Hensley, Ryan Allison (City of Tempe), Ash Lagazo, Aunty Dianne,
Gary Cumberland, Ronnie Sebastian, Sharon Sebastian
General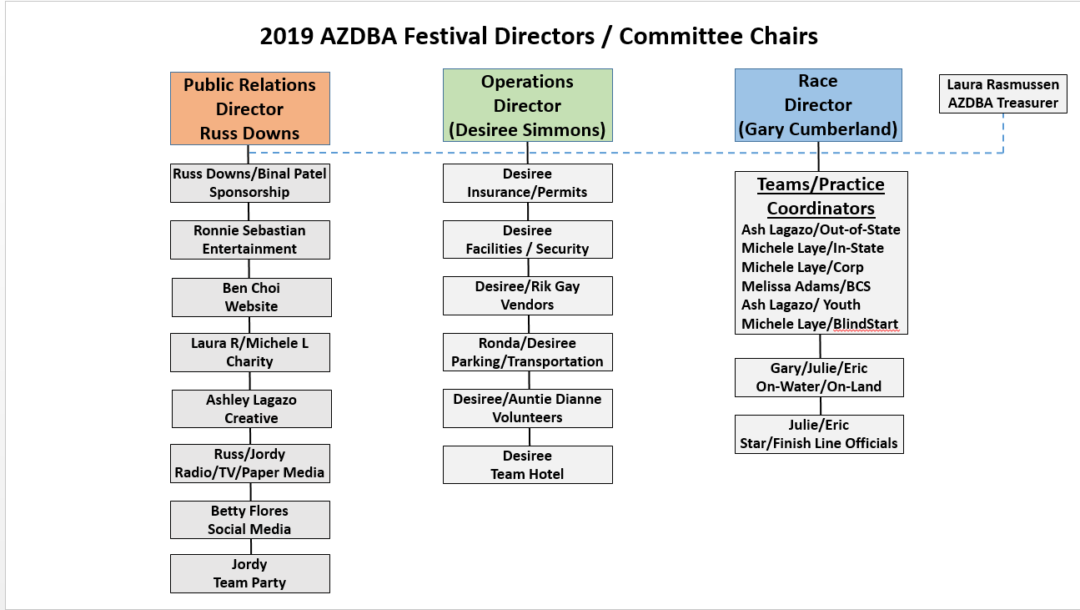 Public Relations Director (Russ)
Charity
Want to present "big check" donation to AZDS during a ceremony during festival
Michele Laye will present to them
Diane wants to put it in program schedule – i.e. allocate a time slot
Sponsorship (Russ)
Sponsor sheet has same dollar value as last year?  Yes
What about online registration for sponsorship?  use paper for now, no real traction for sponsorship that would warrant time investment to create online registration
Colorado Sponsor – reached out to Russ

Bean Beverage – worked with Sprouts and Ability360
were waiting for us to meet to discuss their proposal
They would like to sponsor _and_ also get a Vendor Booth
They are looking at a named sponsorship – $5k
we can waive the vendor fee if thats the case

Wells Fargo sponsorship packet

They requested feedback on how their sponsorship money was spent- Russ couldn't figure out how to fill out the survey, so gave up
They are planning to bring the wagon again
Wanting to do something with the Kidz

Toyota

check came in as a single check for both boat registration + sponsorship
we need to notify them to clearly itemize how the money should be split up
Heads up for Treasurer to be on lookout for combination checks like this
Entertainment (Ronnie Sebastian)
Creative (Ash)
Media and Publicity (Jordy/Russ)
Jordy presented new Festival flyers –

will tweak to make AZDBA more prominent;  want to make it easy for people to remember what to google when they get back to their computers
Jordy will play with a few adjustments and send out revision to committee
We need to put them up all around lake – Tempe Marketplace would be a good place to blanket

Budget for Creative/Publicity/Advertising is $11k

bulk of this will go towards medals
We should advertise with Phoenix Magazine (got Best of AZ this year)
We should purchase ads in New Times – not that expensive.. Jordy to reach out to them to find out cost

Russ will reach out to Channel 3, Fox, etc.. and see what we can do to publicize with them
Website (Ben) / Social Media (Betty)
Everything updated as of right now except Volunteer Packet-

Des: need to get insurance approval before we can get the Jot Form up
The volunteer info packet will be the same, just need to change the year to 2019, can do all of that at once as soon as insurance is approval is final

Festival Merchandising from Excel – Auntie Dianne needs to talk to Steve to get more info
Only other thing is the finalize Teams/Registration/Divisions, and any changes to rules
Team Party (Jordy)
Planning to have at Dave and Busters this year – kid friendly
In addition to Food and Drinks, they will throw in $10 game cards
Might be a little bit pricier than last year, but will be a lot more fun
By next meeting will have a lot better idea of the cost
Operations Director (Desiree)
Vendors  (Desiree/Rik)
Big AZ promotions is in this year (Not going with Classic – they moved to CA)
Lulu's Italian Ice is in
Rik

We sent out 6 inquires (all of last year's vendors were notified – got 2 responses so far)
Have 12 total now
Snow Cone/Shave Ice Vendors

we have 4-5 now
Snow Cone Avalanche is in
Glacier Snow
Joe Snow Cone

Will make final selections in January
Layout?

Des will send Rik the layout from last year – worked well

Security Deposits

required in case vendors dont clean up after themselves after the festival
will hold it, then just send them back, once verify they cleaned their area
Last year, Des just handed their check back on Sun PM at end of festival – saved a stamp and time to mail
Insurance/Permits (Desiree)
Permits done
Insurance – just waiting for confirmation from them we are approved

will update the waiver forms once we receive confirmation
Everyone will receive email notification whenever Google Sheet is updated.  This will happen for

vendor registration
team registrations
expect a LOT of spam
Facilities/Security (Desiree)
We will have overnight security guards for Friday night and Saturday night
We will have 2 security guards for Saturday (Day) and Sunday (Day)
Parking/Transportation (Ronda)
Ronda to secure ASU Lot 59 for March 30 & 31, 2019
Kwok wants to do RFID for parking only (can't get vol;teers for Corp)
Signs last year worked Ok
Need more A-Frames(sandwich boards), they are running low – can we buy a few  more?
Need about 50 parking cones.. or as many as we can get
City of Tempe Parking Lot

we will close Marina parking lots on Wed night (we will have Marina lot from Thurs onwards through weekend)
On Thurs, we will start tagging cars and leave notice that their cars will be towed if they are not moved
Russ will make signs/flyers for cars – will have a week in advance- need double amount of signs
Will start coning off empty spaces on Thursday
Volunteers (Desiree/Aunty Dianne)
Des waiting for insurance to be approved, then will update Jot Registration Form
Will update volunteer packet and registration form at same time on website
volunteer packet info will be same, just need to update year to 2019
City of Tempe (Ryan)
Has taken over for Alicia, his first festival at the helm
Requests

Does he have contact for cleaning people?  dumpster not being emptied (Ryan has already put in the request)
Overgrowth of weeds right in front of main gate (west side)
Dumpter owner

need to make sure they come out on Friday, and empty it just before festival
dumpster needs to be emptied on Saturday night, then again on Sunday after festival, otherwise trash will overflow
corp teams will produce a lot of trash, so Saturday night emptying is esp important

Parking for Adaptive Needs? Ronda…

Yes, we need it, but Ronda will find out by next meeting what the total number of spots needed will be

Concerns

New construction on west side of Rural- when will that be open?  They might try to invade our parking spots, so we need to find out
What about the UHaul and Best Western areas:  Does Ryan know of any plans for these areas?  Ryan will find out
Team Hotel Accommodations (Desiree)
Baymont Suites will be closed for renovation, so we will most likely cross them off the list
Best Western has changed ownership – holding our rooms and contracts
AC Hotel (Marriott)

Near water
nice big luxurious rooms
They offered to open more rooms if Baymont falls through

Baymont Wyndam might also be an option (holding that in back pocket)
Lots of teams like to do AirBNB, so demand of rooms might be less this year
Race Director (Gary-absent / Julie representing)
Teams/Registration (Michele/Julie)
Website is incorrect: Change Youth Division age to 8-14 yrs old (currently its 8-12 yrs old)
High School – remove age restriction completely as High School kids can be held back(older) or advanced (younger)
Remove Juniors for now until next meeting- need to decide if we are going to have a Juniors/Elite Division (< 18 yrs old)

if we do it, will probably be $350 early bird and $450 regular, and they would race 500m
depending on number of teams we get (not enough for separate heat), we may need to race them with Open, Mixed, or Women's Divisions, but not Collegiate
Whatever we charge, we need to at least cover the cost of the medals

3 teams medal in a Division x 25 medals = 75 medals
Each medal between $3-$4, so total would be $275

Des: lets table the discussion until December meeting, review proposals/possibilities then, then make a decision

BCS – need to decide what qualifications we want to place on BCS paddlers – currently we state have to be a Breast Cancer Survivor, may change
Corporate

There was a mistake in the October Meeting Minutes

Its states we are making Corp use Festival Equipment – THIS IS NOT CORRECT
We are allowing Corp teams to use whatever they want – we will not police equipment … too difficult

Kwok does  not want to do RFID as he can't get enough volunteers to pass off the work to
Biggest RFID Glitches from last year's festival

Toyota registered 3 teams, but at last min couldn't get enough for 3rd team, so they had to mix up paddlers from Boats #1 and #2, and the rosters were completely turned upside down
Wells Fargo were switching up their paddlers all day long, after some paddler dropped, some left early, etc…
On the Water
On the Land
Start/Finish Line
BCS
Boat Equipment
We have a full quiver of 20 boats now that the new festival boats have arrived and put into storage
We have enough PFDs
Paddles (wooden festival paddles)

We have a shortage
We need 480 paddles (plus few extras) – need to ask the board for $4k

Set of 120 (6 boats x 20 paddlers) in water/racing
Set of 120 on docks/heading out to start line
Set of 120 in Marshaling Tent
Set of 120 in Pre-Marshaling (paddlers standing around on hill who like to take paddles prematurely… even tho told not to)

Paddles (CF) to Rent from Kwok/Eclipse

Julie:  Kwok said his rentals aren't really worth it, since he has a hard time selling used paddles afterwards
Kwok might limit each team a set of 5 or some number that needs to be determined
Round Table
Julie
BCS paddler recently passed away on Tuesday – can we do something for them?   Maybe too early in grieving process? let some time pass
will Ryan be there both days Sat and Sun?  Yes
More people have moved into the Condo area

Has the City gotten any complaints about the noise levels- e.g. early AM drumming/noise?  Ryan: haven't received any comments
Aunty Dianne
We are lucky to have Ryan onboard!!
Next Meeting
Thursday, December 13, 2018 from 6:30 pm – 8:30 pm at McFate Brewing Company, 1312 N Scottsdale Rd, Scottsdale, AZ 85257
Meeting adjourned at 8:30 PM.